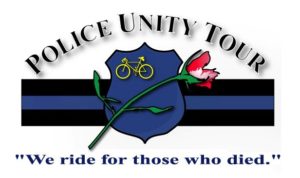 2023 is the 27th anniversary of the Police Unity Tour!!
THANK YOU FOR YOUR SUPPORT!!
OUR GREAT SUPPORTERS HAVE ALLOWED OUR MEMBERS TO PARTICIPATE IN THE POLICE UNITY TOUR AND RIDE TO THE NATIONAL LAW ENFORCEMENT MEMORIAL IN WASHINGTON DC. IN 2018, 2019, 2021, 2022, and 2023.
The Police Unity Tour is a bicycle ride to raise awareness of Law Enforcement Officers killed in the line of duty and to raise money for the National Law Enforcement Officers Memorial in Washington D.C.
This year four of our members will be participating with Police Unity Tour Chapter 10. Each member is required to raise over $2000 in funding.